How to save money (and make a little cash) while prepping for move day
When not done right, the moving process can be time-consuming and costly.
By the time you've hunted for a new place, decluttered your home, searched among the Cleveland moving companies for the perfect Cleveland movers, and finally made the move, your budget is blown.
But you're savvier than that. With these few tips, you can settle in and put your feet up knowing you actually saved money—and possibly even earned a few bucks—during your relocation.
Plan it out
Your house most likely contains your entire life. Thus, it's normal to experience overwhelming emotions when preparing to uproot it. The best way to minimize feeling swamped is to make a plan.
Set time aside to sit down, without distractions, and map out a strategy. Your plan should include a specific budget detailing finances needed for the move. Understand where exactly your money needs to go to make your move most successful. A storage facility? Packing assistance?
Do research to discover precisely how much those items cost in order to decide which will benefit you most.
Consider the value of your time, muscles and energy as well as the logistics of renting, retrieving and returning a moving truck if you were to move yourself. By employing a Cleveland moving company you can save all four.
With an approach in place, you'll be much more relaxed on move day, essentially working on autopilot as you direct your Cleveland movers.
Clean house
Condensing and renewing your belongings could be the freshest way to start the next stage in your life at your new home.
To reduce the amount you're packing and unpacking, it's helpful to sort through each room in your house to determine which items you regularly use, which need replaced and which you don't need.
As you cut down on the clutter, consider hosting a moving sale, which will not only make you money but save on the number of items you'll need to transport to your new house, a thrift store or your curb for trash day.
In the process of your clean sweep, you can decide if any of your belongings might require special packing or extra insurance.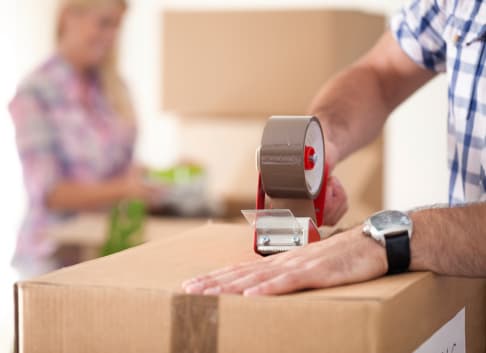 Use it or lose it
As weeks grow closer to your moving date, begin using up items you don't want to move, such as frozen or perishable foods and toiletries. Make grocery lists with the foods you want to use up in mind, both saving you money and some of the effort of cleaning out the freezer.
Get a jump on things by purchasing professional-grade packing materials to start packing items you use infrequently enough to know you won't need again before the move (looking at you, waffle iron). Buying reinforced moving boxes from Cleveland movers, such as Leaders Moving & Storage, saves you money in the long run with our box loan program. You use our boxes; we buy them back once you're finished.
As you go, take the opportunity to once again evaluate if you really need to hang on to that unused milkshake blender that your friend gifted you five birthdays ago.
Choose Cleveland movers you can trust
Above all, select a moving and storage company that promises you a guaranteed quote, saving you from paying by the hour.
At Leaders Moving and Storage, we build relationships with our customers so we can provide personalized and trustworthy service. We believe in protecting the value of your belongings so you won't have to worry about loss or damage.
We look forward to taking care of you every step of the way—call us toll free at (800) 481-6843 or get an online quote today.
Related posts